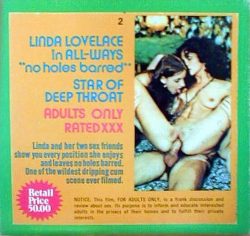 L Series 2 – No Holes Barred. Classic black and white 8mm regular color sex film, featuring Linda Lovelace and Eric Edwards.
LINDA LOVELACE in All-Ways "No Holes Barred" Star of DEEP THROAT! ADULTS ONLY!
Threesome sex, Sexy girls, Sex toys, Sex from behind, Blowjob, Pussy licking, Shaved pussy, Anal, Straight sex, Facial.
First part: L Series 1
Color version: M Series 81 + 82