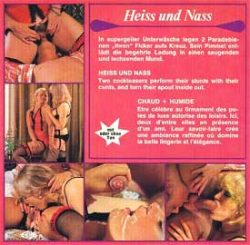 Tabu Film 61 – Heiss Und Nass. Heiß und Naß. AKA Hot and Wet.
Pfiff series by Tabu Film. Super 8mm color sex film, with audio. Germany published 1970s.
Threesome sex (2 girls – 1 guy). Sexy girls, Blonde, Mature, Big tits, Bedroom settings, Hairy pussy, Blowjob, Straight sex, Facial.