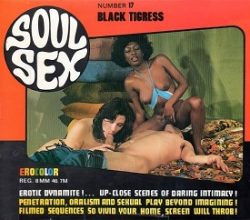 Soul Sex 17 – Black Tigress. Soul Sex 8mm color sex film footage, featuring two unknown females and Jamie Gillis.
EROCOLOR Reg. 8mm – 46.7 meter. Erotic Dynamite!… Up-close scenes of daring intimacy!
Classic, 8mm sex film, Interracial sex, Mature, Sexy girls, Black model, Busty, Skinny, Small tits, Big tits, Hairy pussy, Blowjob, Sex from behind, Straight sex, Facial.