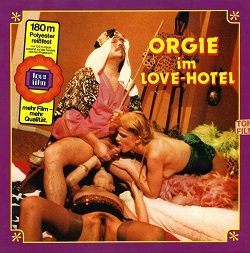 Love Film 717 – Orgie im Love-Hotel. Orgy at the Love-Hotel. 180 meter. Super 8 color. Hardcore 8mm sex loop, featuring Julia Perrin and Mika Barthel amongst others. Germany published, France produced, 1980. Sexy girls. Group sex. Hairy pussy. Hot body. Blowjob. Straight sex. Facials. With audio (french).
Film footage is part of adult feature film: "Hotel pour jeunes filles (1980)".
ORGY IN THE LOVE HOTEL. Mr Schmuck, the manager, wants to sell his hotel to a Sheikh. In order to put the oil prince into the right buying mood, a massive orgy is to take place in the hotel. Glamorous, super hot girls entice the dollars out of the Lord of the harem. Champagne and sperm flow in streams. Such a festival of fucking had never before been seen by the hotel — you too will be thrilled.
Size: 496Mb
Type: avi
Duration: 00:16:28
Resolution: 854 x 480