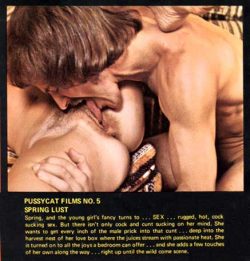 Pussycat Films 5 – Spring Lust. 200ft reel. U.S.A produced and published. Twosome sex (f, m).
Pussycat Films Classic 8mm hardcore sex loop, with subtitles (Ed Wood).
Sexy girl, Brunette, Skinny, Hot body, Sexy ass, Hairy, Sex from behind, Blowjob, Pussy licking, Straight sex, Facial.
Two versions available.
More about this loop over at d2rights blog, by Greg Dziawer.
* Girl also in: Puss 'N Boots 12 and Pussycat Films 9.
5 Pussycat Films 5. The vernal equinox, the season when we shrug off the doldrums of winter and the world starts to bloom again, it also turns young girls into pussycats.
Yes, it's spring, and the young girl's fancy turns to…sex…rugged, hot, cock-sucking sex.
But there isn't only cock and cunt sucking on her mind. She wants to get every inch of the male prick into that cunt…deep into the harvest nest of her love box where the juices stream with passionate heat.
She is turned on to all the joys a bedroom can offer…and she adds a few touches on her own along the way…right up until the wild cum scene!.
Size: 131Mb
Type: mp4
Duration: 00:07:20
Resolution: 768 x 576
Size: 171Mb
Type: mp4
Duration: 00:09:35
Resolution: 768 x 576