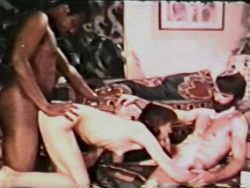 Soul Sex 10 – Hard Brown Meat for Debbie. Featuring Patty Boyd, unknown white guy and John Black.
Soul sex Classic U.S.A. 8mm interracial sex film. Threesome sex (wf, bm, wm).
Brunette girl, Skinny, Small tits, Sexy ass, Hairy pussy, Blowjob, Sex from behind, Straight sex, Facial.
* This is Soul Sex 10 and not Soul 10.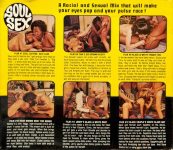 10 Hard Brown Meat for Debbie. Debbie is a slim, leggy, high-breasted chick with a short 'n sassy hair-do.
This dream doll is built for lovin' and never gets enough. When Bob brings home Clydel, his black buddy, Debbie wants to get it on with both of them.
Clydel, a pro basketball player, is all balls and biceps. When Debbie kneels and takes Bob into her mouth, Clydel pumps into her from behind.
She loves it from both ends at once Raw, wild erotica!
Size: 158Mb
Type: mp4
Duration: 00:08:53
Resolution: 768 x 576