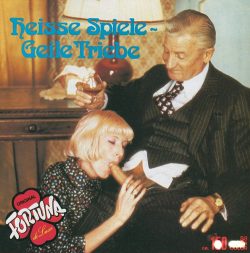 Heisse Spiele – Geile Triebe. Fortuna de Luxe 8mm hardcore sex loop by Tabu Film featuring Nathalie Morin, Veronique Maugarski and Robert Le Ray. Title is translated as "Hot games – Horny drives". German published, French filmed.
Loop is part from adult feature film Roulette (1977).
Older Man, Maid Girl, Sexy Legs, Blowjob, Big Tits, Hardcore Sex. Super 8mm color hardcore sex film, 150 meter. With audio.
Size: 203Mb
Type: avi
Duration: 00:13:46
Resolution: 690 x 480