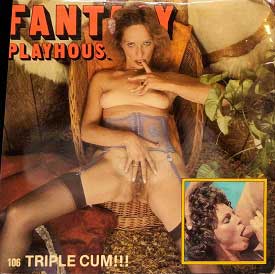 Fantasy Playhouse 106 – Triple Cum.
Classic US produced 8mm vintage color sex loop, Outdoor sex (2 girls – 3 guys). 1970s.
Featuring Chris Landau, Stacy Goldman, R.J. Reynolds and Scorpio.
* Pat Manning on front box, she's is not in the film, the other female is.
Outdoor sex, Group, Sexy girls, Mature, Pool settings, Hairy pussy, Blowjob, Straight sex, Facial.
* First posted as: Unknown Merle Michaels and R.J. Reynolds loop.
106 Triple Cum. Two nympho chicks and three hard studs quickly forget about swimming and playing ball in a pool.
Trunks are jerked aside, stiff cocks spring out and the girls 'blow' the game.
Three huge cocks screw two climaxing babes and that means some hot butthole gets it good!
Size: 138Mb
Type: mp4
Duration: 00:07:16
Resolution: 768 x 576
Size: 163Mb
Type: mp4
Duration: 00:08:18
Resolution: 768 x 576