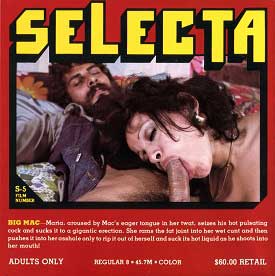 Selecta S5 – Big Mac. Featuring Vanessa del Rio and unknown guy.
Classic 8mm anal sex themed loop, USA produced, 1970s. Twosome sex (1 girl – 1 guy).
Sexy girl, Mature, Latina, Shower, Hairy pussy, Blowjob, Sexy ass, Sex from behind, Anal, Straight sex, Facial.
* First posted as: Vanessa del Rio Unknown Anal Sex Loop.
S5 Big Mac. Maria, aroused by Mac's eager tongue in her twat, seizes his hot pulsating cock and sucks it to a gigantic erection.
She rams the fat joint into her wet cunt and then pushes it into her asshole only to rip it out of herself and suck its hot liquid as he shoots into her mouth!
Size: 232Mb
Type: mp4
Duration: 00:07:37
Resolution: 768 x 576