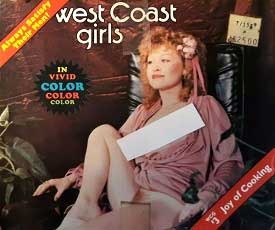 West Coast Girls 3 – Joy Of Cooking. West Coast Girls always satisfy their men!
US produced 8mm regular color sex film. In VIVID Color. Threesome sex (2f, m).
Kitchen sex, Sexy girls, Blonde, Brunette, Hairy pussy, Hot body, Blowjob, Pussy licking, Straight sex.
3 Joy Of Cooking. While cooking dinner, Rita finds herself distracted by Morgana's tits.
As she touches Morgana's soft breasts the fires in Morgana's crotch flare up. Rita drops to her knees, pulls up Morgana's apron and buries her tongue in Morgana's boiling cunt.
Mike comes in to see what all the noise is about only to have Rita slip his dick into her wet mouth and suck him hard.
Mike fucks both ladies right on the kitchen floor, and they eat each other for dessert!
Size: 141Mb
Type: mp4
Duration: 00:06:47
Resolution: 768 x 576