Email Subscription service allow us to send you daily an email notification with a list of new posts that have been made that day.
At the moment we are using: "Google Feedburner", a third party service to send the emails with the new content posted, the service is pretty old, run by google, yet is still one of most reliable out there and sends them with no issues.
Until we find a better service we cannot export the old subscribers list to "classic-erotica", so you will have to re-subscribe if you wish so.
A quick guide for setting up your email subscription for classic-erotica.net
Enter email address in the form bellow or from the left sidebar and hit "subscribe"
A pop-up window will show, fill the reCaptcha and complete your subscription request.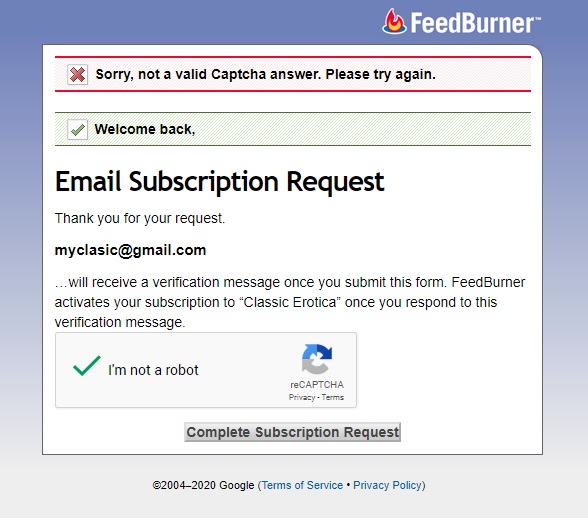 You will receive an email to activate the subscription.
Remember to check the junk/spam folder, some email services treat daily updates as spam. Even after you activate the subscription, the first email may be sent in the spam folder. Mark it as "not spam" and you should be set.
The emails are sent around 18:00 PM (CET) / 12:00 PM (ET) +/- 1hour