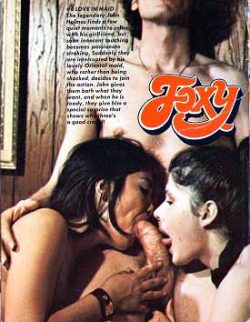 Foxy 6 – Love-In Maid. U.S. published 8mm sex loop, 1976. 45.7 meter.
Foxy Highest quality original color adult Home Entertainment, with subtitles. .
Threesome sex (2 girls – 1 guy). Two unknown girls and John Holmes.
Sexy girls, Asian model, Mature, Living room settings, Hairy pussy, Blowjob, Big cock, Straight sex, Facial.