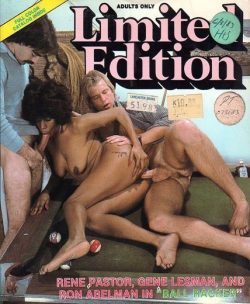 Limited Edition 221 – Ball Racker. US produced 8mm hardcore sex film series. Interracial sex (bf, 2wm).
Featuring Tina Davis, David Sanders and Greg Derek (Rene Pastor, Gene Lesman and Ron Abelman box IDs).
Mature girl, Black model, Pool game, Big tits, Hairy pussy, Sexy ass, Sex from behind, Blowjob, Interracial sex, Facial.
IDs by FLBMAC31.
Previous version: Ball Racker
Read more « DOWNLOAD "Limited Edition 221 – Ball Racker (version 2)" »