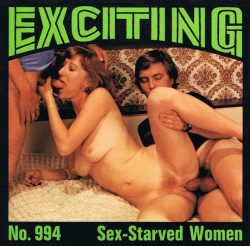 Sex-Starved Women. Exciting Film 994. Exciting Film series 8mm hardcore sex loop, by Color Climax Corporation. Featuring Gitte and three unknown guys.
Danish produced and published, 1980. Super 8mm color hardcore sex film, 45 meter. With audio.
Foursome sex, Skinny girl, Orgy, Group sex, Small tits, Blowjob, Hardcore sex, Straight, Facial.
Loop footage also used for: Color Climax Film 1404.
Read more « DOWNLOAD "Exciting Film 994 – Sex-Starved Women" »