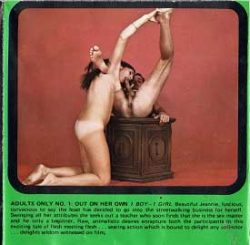 Out on Her Own No 1. Adults Only sex loop series. USA published, 1970s.
45.7 meters. Twosome sex, featuring Fran Spector, unknown girl and unknown guy.
Sexy girl, Hot body, Hairy pussy, Blowjob, Sexy ass, Straight sex. Super 8mm hardcore sex film, with no audio.
* Description doesn't match the loop, might not be the right film
1 Out on Her Own. Beautiful Jeannie, luscious, curvacious to say the least has decided to go into the streetwalking business for herself.
Swinging all her attributes she seeks out a teacher who soon finds that she is the sex master and he only a beginner.
Raw, animalistic desires enrapture both the participants in this exciting tale of flesh meeting flesh … searing action which is bound to delight any collector, delights seldom witnessed on film.
Size: 202Mb
Type: mp4
Duration: 00:10:13
Resolution: 768 x 576