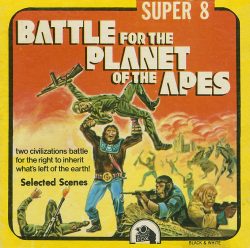 US produced film, 1973. Film directed by J. Lee Thompson. 20th Century Fox. Featuring Roddy McDowall, Claude Akins, Natalie Trundy amongst others.
Classic, 8mm film, super 8, action, sci-fi. Color. This is only the trailer of the film, every scene compilation I've upload is taken down very fast.
Ten years after a worldwide series of ape revolutions and a brutal nuclear war among humans, Caesar must protect survivors of both species from an insidious human cult and a militant ape faction alike.
Size: 41.3 Mb
Type: avi
Duration: 00:02:27
Resolution: 720 x 480