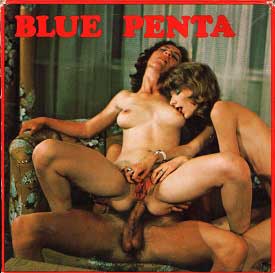 Blue Penta 354 – Anal Shaving. By Topsy Forlaget.
Danish produced 8mm hardcore sex loop, 1970s. Super 8 color – 60 meters. Threesome sex (2 girls – 1 guy).
Sexy girls, Hot body, Skinny, Hairy pussy, Shaving, Blowjob, Small tits, Anal sex, Straight, Cum-shot.
354 Anal Shaving (2 girls -1 man).
Two ravishing girls and a young man are shooting ice. The first looser has to strip off her clothes and the second looser has her cunt shaven by the fellow.
But then it is our hero's turn to shed his clothes and both girls start jerking and licking his gigantic prick until its cream shoots and is licked up by the girls.
He isn't finished yet though. His cock is soon ready for action again and he starts some powerful fucking in both cunts and assholes while the girls are busy licking each others cunts which is shown in great close-ups.
At last he showers one girl's body with his sperm and the other girl licks it up.
Size: 243Mb
Type: mp4
Duration: 00:09:36
Resolution: 768 x 576