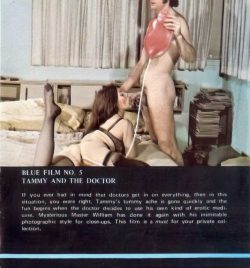 Blue Movie Film 5 – Tammy And The Doctor. The Original Blue Movies.
Blue Film, Regular 8mm hardcore sex loop. 200 foot reel. US produced sex loop.
Home adult entertainment. Color – Subtitles – @1974.
Twosome sex, Sexy girl, Brunette, Hot body, Hairy Pussy, Bedroom settings, Sexy ass, Blowjob, Straight sex, Facial.
Two versions available.