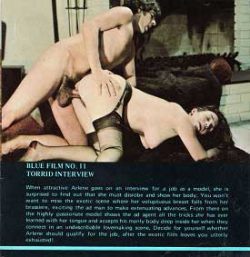 Blue Movies Film 11 – Torrid Interview. Featuring Helen Madigan and Jamie Gillis.
The Original BLUE MOVIES, 200 foot reel – Home Adult Entertainment – Original High Quality. USA produced, 1970s.
Twosome sex (1 girl – 1 guy). Meeting, Office settings, Sexy girl, Brunette, Hot body, Hairy pussy, Blowjob, Pussy licking, Straight sex, Facial.
Read more « DOWNLOAD "Blue Movies Film 11 – Torrid Interview" »