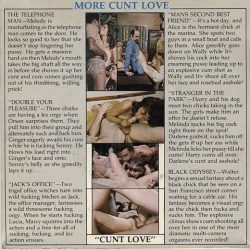 Cunt Love 2 – The Telephone Man. US produced classic 8mm sex film. Unknown white girl and unknown black guy. Twosome sex (wf, bm).
Melody is masturbating as the telephone man comes to the door. He looks so good to her that she doesn't stop fingering her pussy. He gets a massive hard-on then Melody's mouth takes the big shaft all the way in before she shoves it up her cunt and cum comes gushing out of his throbbing, willing prick!
Sexy girl. Brunette. Hairy pussy. Masturbation. Sex toys. Blowjob. Straight sex. Facial.