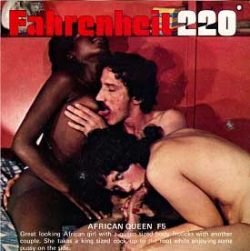 Fahrenheit 220 5 – African Queen. F5. Classic 8mm hardcore color sex loop, with audio (reel running). Unknown cast (bf, wf, wm).
Great looking African girl with a queen sized body frolicks with another couple. She takes a king sized cock up to the – root while enjoying some uss on the side.
Threesome sex, Sexy girls, Black model, Interracial sex, Hairy pussy, Lesbian sex, Sex toys, Pussy licking, Blowjob, Straight sex, Facial.