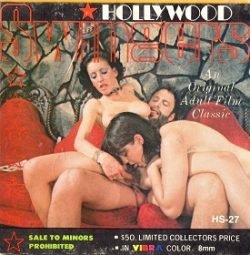 Hollywood Swingers 27 – The Story of Joanna. An original adult film classic. IN VIBRA COLOR. 8mm.
US produced 8mm regular color sex film, featuring Terri Hall and R. Bolla. Threesome sex (2f, m).
Classic, 8mm sex film, Sexy girls, Brunette, Skinny, Hairy pussy, Sex toys, Blowjob, Anal sex, Facial.
Same settings as: Broadway Film BR 52 – Erotic Fantasy, (different film version).