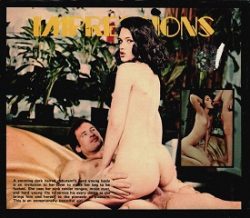 Impressions 112 – Sandra's Sultry Sex. Impressions 8mm regular hardcore sex loop, featuring Georgette Saunders and Roger Caine.
US produced and published. Twosome sex (f, m).
Classic, 8mm sex film, Sexy girl, Brunette, Hot body, Small tits, Sexy ass, Bedroom settings, Hairy pussy, Blowjob, Pussy licking, Straight sex, Cum-shot, Cum on tits.
Two versions available.