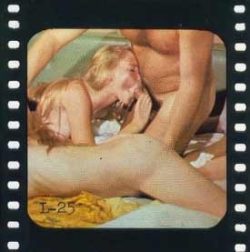 Libra 25 – Four At Love (part 1). Foursome sex (3 girls – 1 guy).
Libra Leaders of Quality Erotic Films. Vintage 8mm sex loop, USA produced, 1970s.
Sexy girls, Blonde, Brunette, Bedroom sex, Lesbian, Pussy licking, Blowjob, Straight sex, Group.
Featuring Carol Connors, Lynn Nelson, unknown girl and unknown guy.