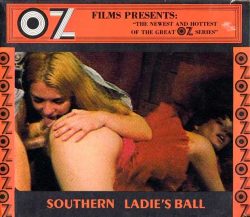 O.Z. Films 94 – Southern Ladie's Ball. US produced 8mm regular hardcore sex loop, featuring Desiree Cousteau, unknown girl and Ken Scudder.
O.Z. Films presents: The newest and hottest of the great OZ series. Threesome sex (2f, m).
Sexy girls, Blonde, Brunette, Busty, Big tits, Sexy ass, Hairy pussy, Pussy licking, Blowjob, Straight sex, Facial.
Two versions available.