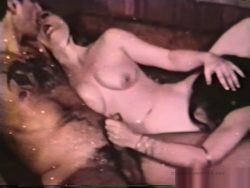 Party Girls (2) 14 – Super Star. The Original Adult Home Movies. Living color – 200 Ft. Reel.
Party Girls U.S. produced vintage sex loop, 1970s.
Sexy girls, Busty, Hot body, Hairy pussy, Pussy licking, Lesbian, Blowjob, Straight sex.
Threesome sex (2 girls – 1 guy). Featuring Darby Lloyd Rains, unknown girl and Don Allen.