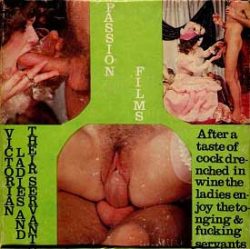 HD Passion Films 1 – Two Victorian Ladies And Their Servants. Classic 8mm color sex loop, featuring Dianne and Mara Dunn.
US produced and published sex film. Foursome Sex (2f, 2m).
Victorian era settings, Sexy girls, Brunette, Hot body, Bedroom settings, Hairy pussy, Blowjob, Straight sex, Facial.
Two versions available.
Read more « DOWNLOAD "Passion Films 1 – Two Victorian Ladies And Their Servants" »