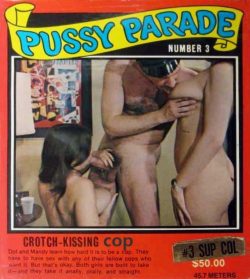 Pussy Parade 3 – Crotch-Kissing Cops. US produced classic 8mm sex loop, with audio (reel running).
Featuring Marcia Minor, unknown girl and unknown guy. Threesome sex (2f, m).
Classic, 8mm sex film, Cop, Sexy mature girls, Brunette, Hot body, Busty, Big tits, Sexy ass, Hairy pussy, Blowjob, Straight sex, Facial.
Second version: Pussy Parade 3
Film poster and loop ID by Ascot23.