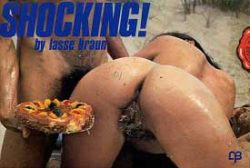 Lasse Braun Film 340 – Cake Orgy. Dutch produced super 8mm color sex loop, 1972.
SHOCKING! 8mm sex loop series, by Lasse Braun. Outdoor sex (3 girls – 2 guys).
Group sex, Orgy, Sex on the beach, Fetish, Food orgy, Sexy girls, Hairy pussy, Anal sex, Straight.
Featuring Claudine Beccarie, Sylvia Bourdon and Bent Rohweder.