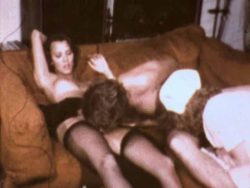 Tits and Ass 404 – Pumping Nurse's Orgy. Threesome sex (2 girls – 1 guy).
U.S.A. produced sex film series. Regular 8mm vintage color sex loop, featuring Lisa DeLeeuw, Jolanda Amersforth and unknown guy.
Softcore loop, no penetration. Sexy girls, Busty, Big tits, Nurse outfit, Hairy pussy, Sexy ass, Lesbian sex, Straight.
Read more « DOWNLOAD "Tits and Ass 404 – Pumping Nurse's Orgy" »