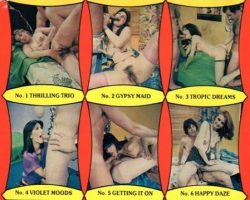 Turn On 5 – Getting It On. Turn On 8mm vintage sex loop, featuring Arcadia Lake, unknown girl and unknown guy.
US produced and published film. Threesome sex (2f, m).
Classic, 8mm sex film, Sexy girls, Skinny, Brunette, Small tits, Hot body, Hairy pussy, Blowjob, Lesbian sex, Pussy licking, Straight sex, Facial.