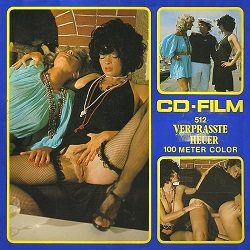 CD-Film 512 – Verprasste Heuer (short). Germany CD-Film 100 meter. Super 8mm color sex film, with audio. Featuring Karin Hofmann and Uschi Karnat. Twosome sex.
Classic, 8mm film, fetish, outdoor meeting, sexy girls, hot body, busty, hairy pussy, lesbian sex. With audio. Good video quality. Loop is not complete.
Two harbor prostitutes haul a sailor on land. With blow-jobs and fucking they rid him of his very last drops of sperm and lighten his purse as well. Easy come, easy go.
Size: 68.7Mb
Type: mp4
Duration: 00:03:46
Resolution: 640 x 480