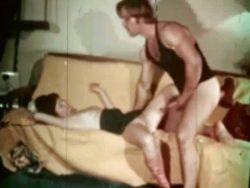 Cin-Kay / Sin-Kay Loop?. USA 8mm hardcore sex loop, 1970s.
Unknown cast (1 girl, 1 guy). Twosome sex, Workout, Sexy girl, Brunette, Shaved pussy, Bedroom sex, Blowjob, Straight sex, Facial.
* The plot/timeline matches Cin-Kay / Sin-Kay loops, I have some boxes for Cin-Kay but none of them match this loop.
Hopefully I got this right, can't think of other series with such plot, maybe some from Vandal Films?.
Size: 201Mb
Type: mp4
Duration: 00:07:35
Resolution: 768 x 576