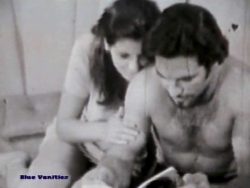 Climax Films – Adventure. Black and white 8mm classic sex loop, UK produced, 1960s.
Unknown cast (1 girl – 1 guy). Sexy girl, Brunette, Bedroom sex, Big tits, Hot body, Straight sex, No penetration.
* Looking back at the loop, there is no penetration, don't think is a Climax Films.
Size: 199Mb
Type: mp4
Duration: 00:12:50
Resolution: 768 x 576