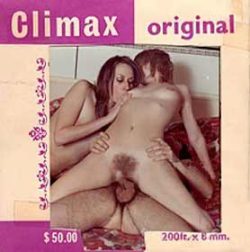 HD Climax Original Film – More Than He Can Handle.
Climax Original Film 8mm hardcore sex series. UK produced and published, early 1970s.
Threesome sex, Sexy girls, Brunettes, Skinny, Bedroom settings, Sexy ass, Blowjob, Straight sex, Body cum.
More Than He Can Handle. Two girls are in bed making out. They're very horny and start undressing each other.
They can't resist sucking on each other's tits and licking one another's pussy. Then a guy comes into the bedroom and now he's in the mix of these two wild women.
They love sucking g his cock and can't wait to ride his hard on.
Size: 293Mb
Type: mp4
Duration: 00:08:12
Resolution: 1080 x 720