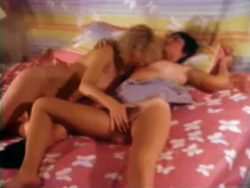 Diamond Collection 265 – Girls Alone.
Diamond Collection 8mm lesbian sex themed film, US produced and published, 1980s.
Twosome sex, Sexy girls, Blonde, Brunette, Bedroom settings, Lesbian sex themed loop.
265 Girls Alone. Barbi knew she was different, but she didn't know how different until she met Winifred at a singles' party.
They smoked a couple of joints and Barbi got giggly and when Winifred suggested they go to her place for a little fun and games, Barbi was all for it!
Then Winifred pulled out a dildo. It was huge! Barbi had never tried one before, but she felt herself get-ting juicy just thinking about it!
Size: 373Mb
Type: mp4
Duration: 00:19:00
Resolution: 768 x 576