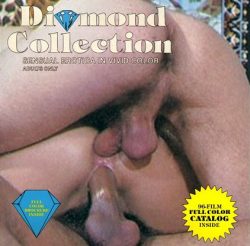 Diamond Collection 275 – Two Into Cherry. Diamond Film. US produced hardcore sex loop series. Featuring Irene Wilson, Blair Harris and Herschel Savage. Threesome Sex (f, 2m).
She's no virgin, but her asshole was till now. Two studs stop by for a visit and her mouth is a little sore so they suggest the two openings left. Cherry screams with pain … then ecstacy as Chuck put his throbbing member in her tight ass. Harry is so turned on he almost explodes before he can get it in her pussy. This is a hot tucking action.
Sexy Mature Girl, Brunette, Hot Body, Busty, Bedroom Settings, Hairy Pussy, Blowjob, Double Penetration, Anal Sex, Hardcore. Bad video quality.
Size: 132Mb
Type: avi
Duration: 00:05:52
Resolution: 854 x 480