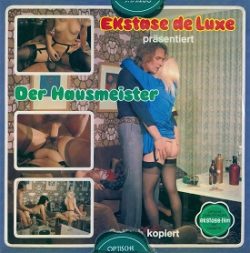 Ekstase Film 12 – Der Hausmeister. AKA The Janitor. Ekstase de Luxe.
Super 8 color, 8mm hardcore sex film, with audio. Germany published.
Classic, 8mm sex film, Sexy mature girls, Blonde, Group sex, Meeting, Living room settings, Blowjob, Straight sex.
Featuring Britt Corvin, Marita Kemper (brunette), F.C. Barn (non-sex), Kurt Meinicke and unknown guy. Directed by Charlie Bundt.
Size: 134Mb
Type: mp4
Duration: 00:08:08
Resolution: 768 x 576