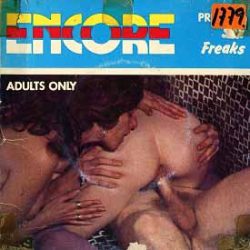 HD Encore 2 – Sex Freaks. Classic 8mm color sex film series, Encore.
U.S.A. produced and published, 1970s. Unknown cast (2 girls – 1 guy).
Threesome sex, Sexy girls, Brunette, Skinny, Hot body, Blowjob, Straight sex, Facial.
* AKA Flying Pussy 7
* This film, for adults only, is a frank discussion and review about sex. Its purpose is to educate interested adults in the privacy of their homes and to fulfill their private interests.
Size: 152Mb
Type: mp4
Duration: 00:09:33
Resolution: 768 x 576
Size: 202Mb
Type: mp4
Duration: 00:06:18
Resolution: 1024 x 768