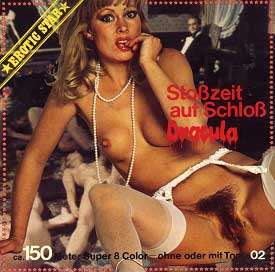 Erotic Star 2 – Stosszeit auf Schloss Dracula, Stoßzeit auf Schloß Dracula.
German filmed and published 8mm film, 1978. Featuring Christa Ludwig and Gina Janssen.
Classic, 8mm Film, Costumes, Fetish, Sexy girls, Group, Hairy, Straight sex, Orgy.
* Loop footage part of: Heisse Nächte auf Schloss Dracula (1978)
2 Stosszeit auf Schloss Dracula. Once a year on Walpurgis night Count Dracula issues an invitation.
His guests are the spirits of the living dead. Giant cocks, overflowing with juices, wet swollen and slippery cunts have been waiting a whole year for this night.
In an unbelievable superorgie of frenzied colour these zombies of the night break every sexual tabu.
If it moves, fuck it, ass it; if it screams, plug it, suck it. The castle fills with shuddering cried and screams.
Size: 653Mb
Type: mp4
Duration: 00:33:15
Resolution: 768 x 576