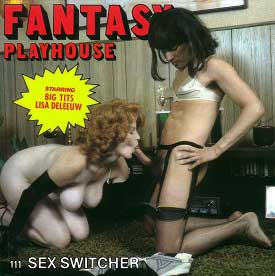 Fantasy Playhouse 111 – Sex Switcher. U.S.A. produced 8mm sex loop series.
Color film footage, featuring Lisa De Leeuw and Don Fernando. Twosome sex (f, m).
Sexy mature girl, Big tits, Busty, Tits fuck, Blowjob, Straight sex. Facial.
* Second version: Sex Switcher
111 Sex Switcher. Eric digs dressing in women's clothes, but there is no soft pussy in his panties.
He lays his rigid rod between Lisa DeeLeuw's boobs and tit fucks her until he almost comes.
She jams his pulsing boner in her twat and humps him off like a real girl should.
Size: 114Mb
Type: mp4
Duration: 00:06:25
Resolution: 768 x 576
Size: 115Mb
Type: mp4
Duration: 00:06:18
Resolution: 768 x 576