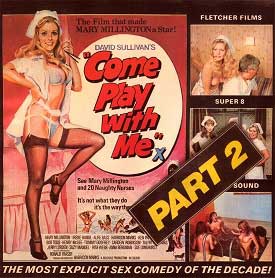 HD Fletcher Films – Come Play With Me – Part 2.
The film that made Mary Millington a star. The most explicit sex comedy of the decade!.
Super 8 color. Directed by Harrison Marks. Featuring Mary Millington, Irene Handl and Alfie Bass.
UK produced, 1977. Classic 8mm Film, Erotic, Softcore, Sex comedy. With audio.
Size: 671Mb
Type: mp4
Duration: 00:17:46
Resolution: 1192 x 720