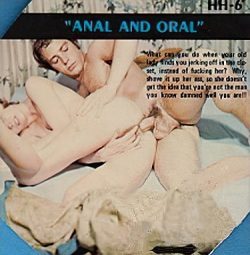 HH Series 6 – Anal & Oral. US produced 8mm hardcore sex film, featuring Mimi Morgan and unknown white guy.
Twosome sex (f, m). Sexy girl, Hot body, Hairy pussy, Blowjob, Anal sex, Straight, Facial.
#6 Anal & Oral. What can you do when your old lady finds you jerking off in the closet, instead of fucking her?
Why, shove it up her ass, so she doesn't get the idea that you're not the man you know damned well, you are!!!
Size: 145Mb
Type: mp4
Duration: 00:09:51
Resolution: 768 x 576