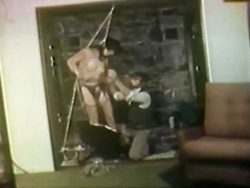 House of Milan 111 – Assault. US produced, 1970s.
House of Milan (H.O.M.), Classic 8mm softcore sex film, Twosome (1 girl – 1 guy).
Bondage themed film, Sexy girl, Brunette, Ropes, Spanking, Hairy pussy, Sexy ass, Bounds, Softcore loop.
111 Assault! She only wanted to use his phone, but Jeannie soon finds a new helplessness as he pounces on her and winds the cords deeper and deeper!
Size: 209Mb
Type: mp4
Duration: 00:08:55
Resolution: 768 x 576