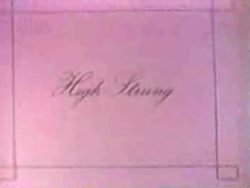 House of Milan 127 – High Strung!. Twosome (1 girl – 1 guy).
House of Milan (H.O.M.), Classic 8mm softcore sex film, US produced, 1978.
Bondage themed film, Sexy girl, Big tits, Spanking, Hairy pussy, Ropes, Sexy ass, Bounds, Softcore loop.
127 High Strung! Sheila pays one hundred dollars for her date with ropes, straps, and chain. And her masked, friend helps himself to her lush the rewards!
Size: 198Mb
Type: mp4
Duration: 00:08:23
Resolution: 768 x 576