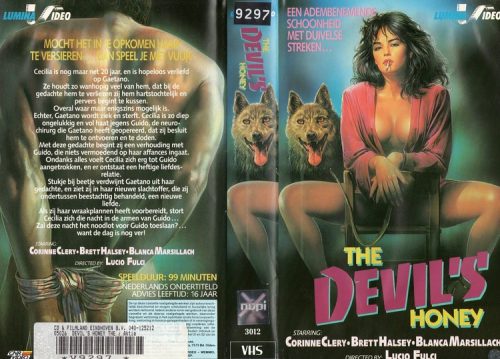 Il miele del diavolo (1986), also known as: The Devils Honey (1986), Dangerous Obsession.
Director: Lucio Fulci
Cast: Brett Halsey, Corinne Cléry, Blanca Marsillach, Stefano Madia, Paula Molina, Bernard Seray.
Country: Spain, Italy
Description: Dr. Wendell is troubled surgeon with a nagging wife, Carol, and stressful hospital job, who botches a surgery on an injured young man, Johnny, who then dies under his care. The man's dangerously disturbed girlfriend, Jessica, abducts the doctor and holds him captive at her apartment and subjects him to mind games and sexual torture because she holds him responsible for the death of her boyfriend which triggers hidden repressed memories about Jessica and Johnny's times together, while Dr. Simpson finds himself pervasively drawn to this strange young woman holding him captive.