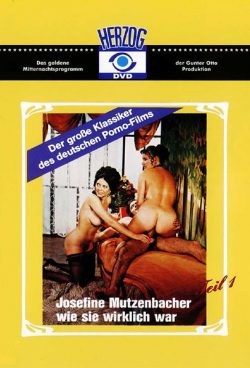 Josefine Mutzenbacher … Wie Sie Wirklich War Teil 1 (1979). Josefine Mutzenbacher classic adult film series. Directed by Hans Billian. West Germany, 1979.
Featuring Patricia Rhomberg, Siggi Buchner, Sepp Gneissl, Marie-France Morel, Linda Rogers, Irene Silver, Birgit Zamulo.
Classic porn, Adult, Straight sex.
The setting—a quaint country home nestled in the verdant hillsides of an idyllic German forest. Who can think of better place to get it on, rough and tumble style, with some hot and willing babes? The dream sequence concluding this steamy tale is the perfect climax you don't want to miss!
Size: 699Mb
Type: avi
Duration: 01:35:03
Resolution: 512 x 384