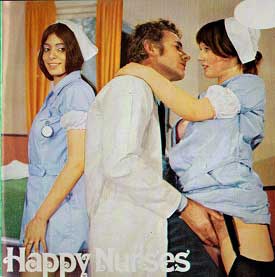 Kiss Film 16 – Happy Nurses.
Kiss #16 8mm color sex loop. Related to Tabu Film Programm. Germany published, 1970s.
Sexy girls, Hot body, Skinny, Nurse outfit, Doctor, Hospital settings, Hairy pussy, Blowjob, Straight sex, Facials.
* AKA Tabu Film 21
* First version: Kiss Film 16
16 Happy Nurses. At the hospital all the patients have been tucked in for the night. But the action isn't about to sleep there.
The doctor puts away his tools and takes out another tool which he shows to the nurse, in his private office.
She inspects it carefully and begins to take her temperature with it … mouth high with heat … her lower quarters burning … there is only one way to bring her temperature down … the doctor knows his business.
Size: 247Mb
Type: mp4
Duration: 00:08:34
Resolution: 768 x 576