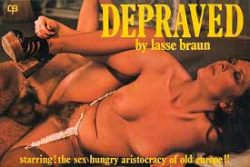 Lasse Braun Film 334 – Chains. AKA The Countess – Depraved series.
Bondage series. Classic 8mm vintage sex loop, featuring Sylvia Bourdon. Dutch published, Breda, 1972.
Fetish, Sexy girls, Mature, Hot body, Light bondage, Domination, Chains, Mistress, Hairy pussy, Small tits, Blowjob, Anal, Straight sex, Facial.
#334 Chains. The Countess Bourdon and her chauffeur James have just returned from a long holiday in Athens.
Deprived of her mistress' affection for so long, the Countess' servant, Dolores, entices her down to the cellars to indulge in an orgy of domination.
Dolores is bound with ice-gold chains and ass-fucked with a smooth, broomstick by James; who then leaves her to chew, fuck, and energetically ass-fuck the Countess.
The three of them reach explosive, cumulative orgasm.
Size: 199Mb
Type: mp4
Duration: 00:11:24
Resolution: 768 x 576
Size: 173Mb
Type: mp4
Duration: 00:06:00
Resolution: 768 x 576