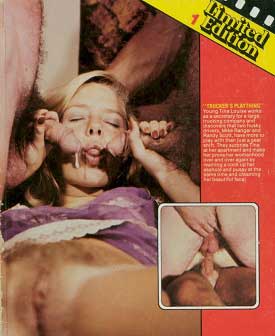 Limited Edition 1 – Trucker's Plaything.
Classic 8mm hardcore sex film, featuring Tina Louise, Mike Ranger and R.J. Reynolds (as Randy Scott).
Limited Films. US produced and published loop. Threesome Sex (f, 2m).
Sexy girl, Blonde, Sexy body, Skinny, Small tits, Bedroom settings, Hairy pussy, Sex from behind, Blowjob, Anal sex, Double penetration, Hardcore, Facial.
1 Trucker's Plaything. Young Tina Louise works as a secretary for a large trucking company and discovers that two husky drivers, Mike Ranger and Randy Scott, have more to play with than just a gear shift.
They surprise Tina at her apartment and make her prove her womanhood over and over again by reaming a cock up her asshole and pussy at the same time and creaming her beautiful face!
Size: 202Mb
Type: mp4
Duration: 00:08:53
Resolution: 768 x 576
Size: 97.1Mb
Type: mp4
Duration: 00:02:45
Resolution: 768 x 576
Size: 143Mb
Type: mp4
Duration: 00:07:57
Resolution: 768 x 576