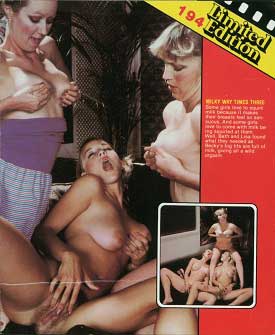 Limited Edition 194 – Milky Way Times Three.
Classic 8mm lesbian sex loop, USA produced, 1980s. Threesome sex (3 girls).
Sexy girls, Blondes, Sexy ass, Mature, Hairy pussy, Big tits, Pussy licking, Sex toys, Lesbian.
194 Milky Way Times Three. Some girls love to squirt milk because it makes their breasts feel so sensuous.
And some girls love to come with milk being squirted at them.
Well, Beth and Lisa found what they needed as Becky's big tits are full of milk, giving all a wild orgasm.
Size: 252Mb
Type: mp4
Duration: 00:08:43
Resolution: 768 x 576